October 2017
| Mon | Tue | Wed | Thu | Fri | Sat | Sun |
| --- | --- | --- | --- | --- | --- | --- |
| | | | | | | 1 |
| 2 | 3 | 4 | 5 | 6 | 7 | 8 |
| 9 | 10 | 11 | 12 | 13 | 14 | 15 |
| 16 | 17 | 18 | 19 | 20 | 21 | 22 |
| 23 | 24 | 25 | 26 | 27 | 28 | 29 |
| 30 | 31 | | | | | |
Calendar

Discuss Panini's spin-off series of Bookazines here. The series started to celebrate the 50th Anniversary in 2013 with the '50 Years' mini-series which covered the Daleks, the Companions and the Doctors and once the celebrations were over, the series continued as 'The Essential Doctor Who', with the twelfth in the series having just been announced. Here is the list of all twelve so far, with details and a cover for the new addition.
1-The Cybermen
2-The TARDIS
3-Alien Worlds
4-The Master
5-Monsters
6-Davros and Other Villains
7-The Time Lords
8-Adventures in History
9-Invasions of Earth
10-Robots
11-Adventures in Space
12-Time Travel
Panini's lavish bookazines continue with a 116-page issue devoted to the Doctor's journeys through time, and the greatest plots hatched by his time-travelling adversaries. Doctor Who was conceived as a format that would go backwards, forwards and sideways in time. Ever since those early black-and-whites days, the series has stayed true to that concept with innovative stories exploring every aspect of the fourth dimension. The Essential Doctor Who: Time Travel talks to the actors, writers and directors who helped to create these memorable episodes. There are guides to the greatest time-travel stories, along with details of unmade scripts, previously unseen images, and much more.
Cover subject to change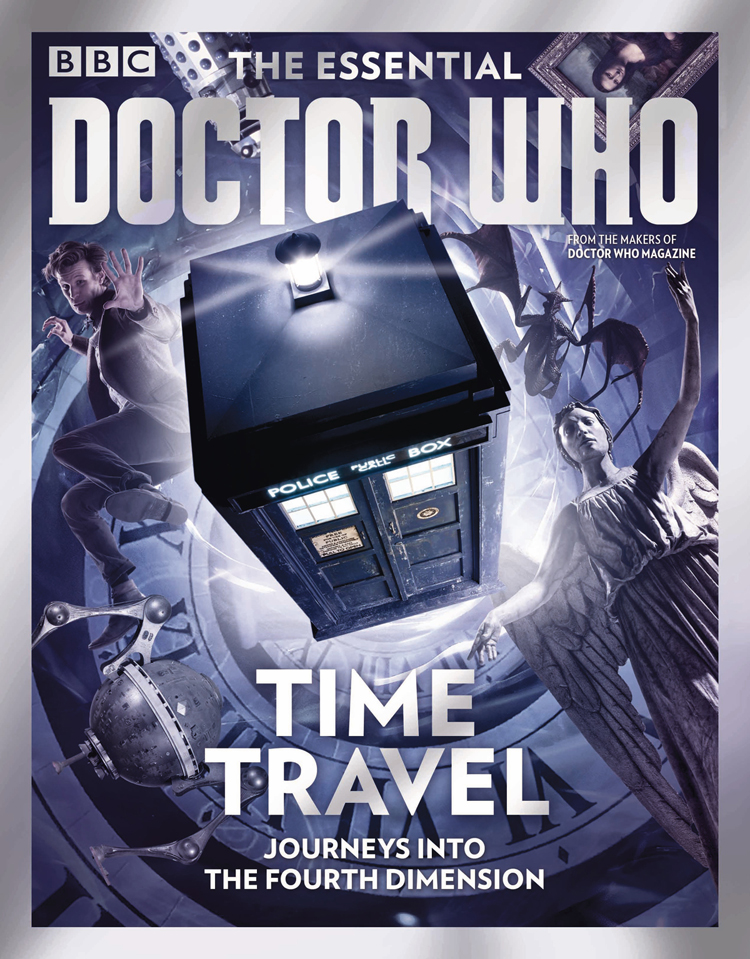 Dalek

The Ninth Doctor's Tardis




Posts

: 2652


Join date

: 2013-02-20


Age

: 18


Location

: At Home or the Library



I have only bought the DWM special like the Dalek and toy one, I find these over priced and seem to be churning them out like a factory line, just to make money I feel.
I agree, the next DWM Special is about Non-Fiction Books, for God's sake. A non fiction book about other non fiction books covering exactly the same thing. I could understand a special about all books-they could do some good stuff on Target, the little covered Virgin and BBC ranges, some interviews with the team behind the current range, but non fiction only is extremely niche, and the title-Referencing the Doctor-makes it sound like the most boring thing to ever exist. And the cover is literally just a picture of Capaldi, with some faint images of pages from some of the books in the background-it's hardly anything to do with the subject matter! The worst thing is, they expect us to pay £5.99 for it! I could buy a proper book for that. Sorry for the rant, I just needed to express myself.

Dalek

The Ninth Doctor's Tardis




Posts

: 2652


Join date

: 2013-02-20


Age

: 18


Location

: At Home or the Library




Similar topics
---
Permissions in this forum:
You
cannot
reply to topics in this forum